A chatbot is a computer program that can speak with humans. Artificial intelligence can either pre-program or direct it. Text-based conversations are ubiquitous, but they can also occur via conversational interfaces that allow for vocalization. In this article, we are going to share the list of chatbot types various companies use for their betterment.
List of Chatbots: Our Pre-made Templates
Businesses would profit from a chatbot deployment strategy since it would increase operational productivity and cost savings while providing consumers with convenience and new services. Customers' inquiries and problems may be quickly resolved, and the usage of AI reduces the need for human engagement.
How do I make a free chatbot?
By improving contacts between consumers and utilities, the usage of artificial intelligence chatbots can boost consumer loyalty. In doing so, they provide firms with novel means of strengthening customer loyalty while also improving organizational performance by lowering the standard cost of customer service. If you need a ready-to-use marketing or customer service chatbot tutorial, Xenioo has you covered! Businesses benefit from Xenioo's ready-to-use consumer interaction technology solution, which features a simple user interface.
Without having to write any code, Xenioo gives you all of the tools you need to start constructing your chatbot. Prepare to broaden your company's reach by generating leads and engaging with current and prospective consumers. To learn about the templates currently offered by Xenioo, please visit this page.
Lead Generation Chatbot
A Lead Generation Chatbot is a pre-made conversational flow that is designed to acquire consumer information more quickly and efficiently. Please visit this page to go through Xenioo's example of a lead generation chatbot.
While traditional lead generation forms are popular, they appear to perform poorly in terms of conversion. A chatbot, on the other hand, greatly enhance conversion rates due to its capacity to engage consumers and focus their attention on the conversation, thereby drawing attention to the product.
Google Sheets allows you to take user information and save it. As a result, prospects that are already interested in your goods have solid leads. As a result, this bot will assist you in storing that information, which can then be utilized to promote products to these clients or provide assistance in converting these leads.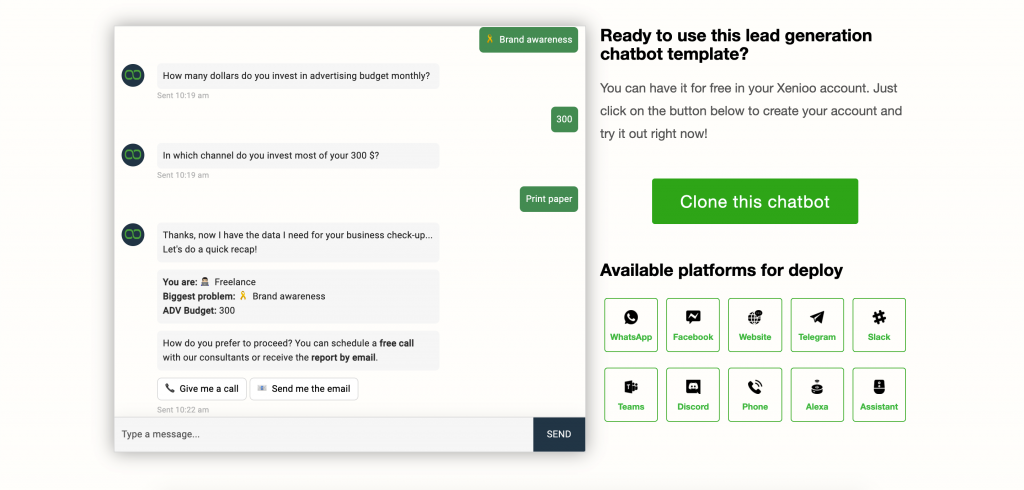 Customer Support Chatbot
The foundation of any relationship is trust. By chatting with your audience regularly, a chatbot will assist you in building trust. It engages subscribers by providing immediate support and is available to them at all times. This gives the sense that there is still a brand on which they can focus. These chatbots carry out all of the duties of a customer service professional. People trust chatbots because they are not pushy and frequently consider the demands of the customer.
A chatbot can provide customer assistance to your users. If customers have any issues with their shopping experience or their account, they will contact the bot for assistance. There are other strategies for generating chatbot leads, but this is the one that must be used. For further insight, visit this page.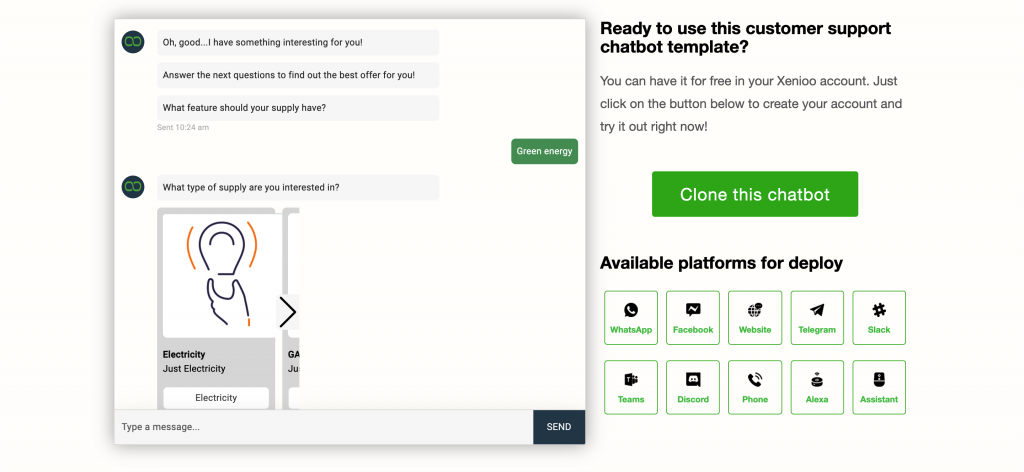 Recruitment and HR Chatbot
HR chatbots are bots that have been explicitly trained and created to mimic the work of HR in the organization. While hiring them is simple, assessing their worth and function in the organization is more difficult.
Bots allow your organization to reach a wider audience while yet preserving team efficiency on the corporate website. You can create industry-specific questions, and bots can qualify sales prospects by answering them. The sales team can manage them or schedule an appointment.
When an applicant schedules an appointment with you, the appointment is automatically saved in the Google calendar, an event is created, and reminders are sent to both the user and the business representative, through the recruitment bot. HR teams frequently use HR chatbots to organize interviews for recruitment purposes. Find more information about Xenioo's HR bot here.
Survey & Quiz Chatbot
A Survey & Quiz Chatbot is a pre-made conversational flow designed to engage clients and collect feedback on your service. Knowing your audience allows you to provide greater value to them. As a result, having a digital platform where your customers can connect and, for example, assess your service is even more crucial. A customer satisfaction survey chatbot is a great example of what you may provide your audience.
Often, you'll need to engage customers in a way that's more fun than a traditional survey, such as a quiz. A quiz chatbot can operate as a personalized tutor, assisting you in honing your skills. Because a quiz is similar to a game, it is much easier to persuade people to participate. Read more here.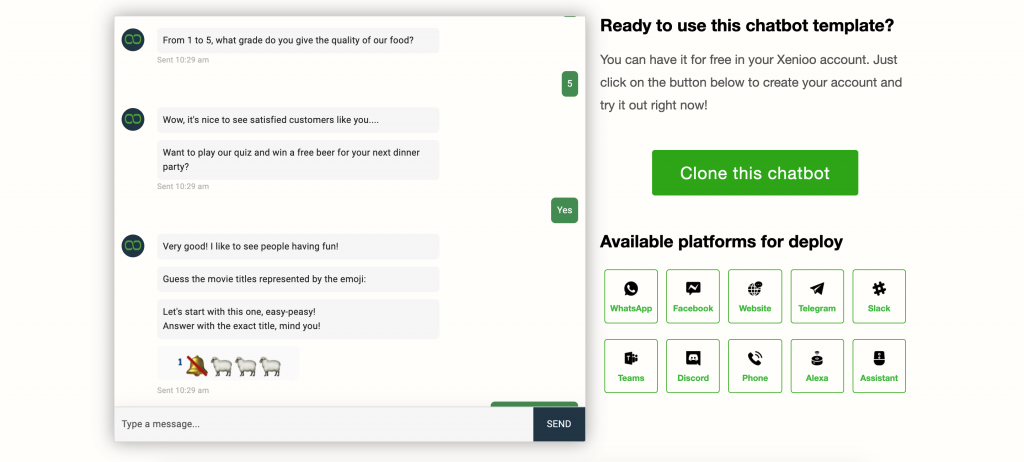 Travel Assistant Chatbot
Appointment scheduling or booking bots are common in the healthcare, airline, and hotel industries. These bots assist clients in scheduling appointments with the organization with which they communicate. One of the numerous breakthroughs that will transform the course of the tourism business is the use of a chatbot. You may utilize a travel chatbot to increase reservations, answer frequently asked questions, promote special offers, and generally assist users in finding their dream vacation. Further information is here.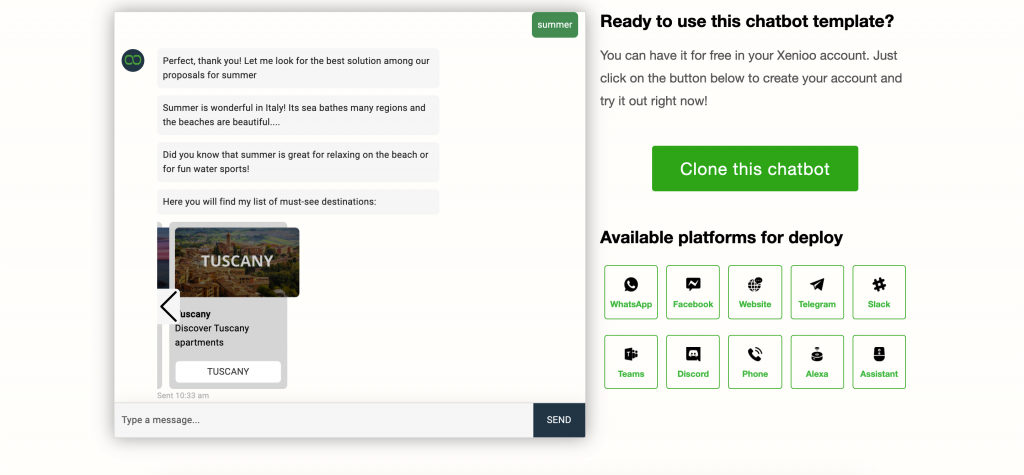 Real Estate Chatbot
Real estate is one of the most appealing businesses on the planet. And, with the rise of the digital economy, the real estate business has undergone significant changes. Chatbots and artificial intelligence (AI) plays a significant role in the future of this industry. To know what Xenioo offers, visit this page.
The real estate chatbot expedites, simplifies, and enjoys the experience of house seeking. People can look for a home based on the number of rooms, the locality, the price, the type, and other factors. Real Estate bots get information from your customers about what they are looking for. These intelligent bots can personalize the customer experience, have a higher engagement capacity, reach a bigger audience, analyze customer feedback and data, provide relevant notifications, and seamlessly move customers through the sales funnel.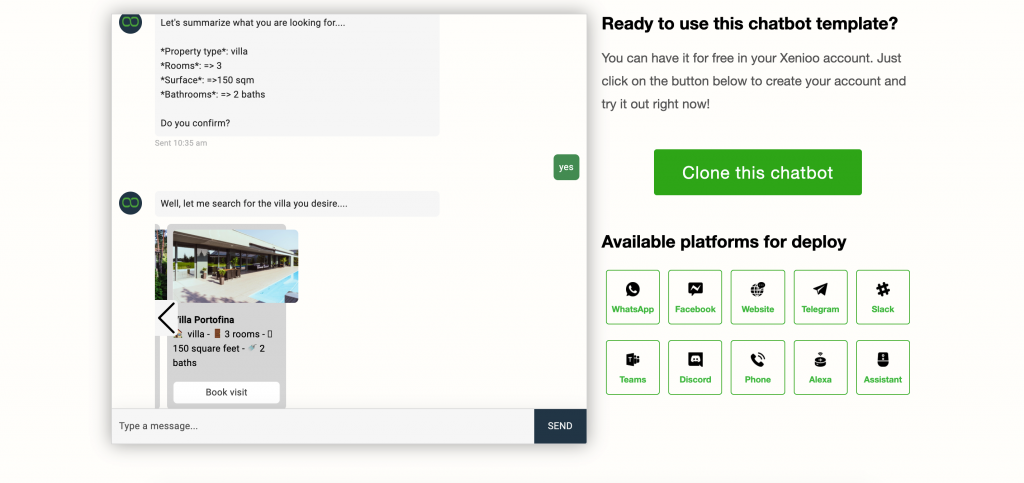 Conclusion
Chatbots are a wonderful approach to improve communication between a company and its clients through your website. A well-designed chatbot example can significantly aid a company's growth. When your sales agents are busy or unavailable, you can utilize bots to prequalify prospects.
Customers today have higher product expectations than before. When deployed appropriately, chatbots span the difference between consumer requests and actual service delivery, making them an increasingly beneficial tool for companies in practically every area. To establish advanced chatbot systems, several companies engage Xenioo to provide chatbot development services. You can develop chatbots that will impress your users. The solution to the list of chatbot platform inquiries can be Xenioo.
Join your organization's ChatBot Business experience with Xenioo. Let us advise you and deliver the greatest customer service to your firm. Connect at Xenioo.com.