A chatbot for e-commerce enables you to communicate in real-time, with new and existing clients without actually delivering and spending for an employee. Through chatbots, your business can give customer support, support, and information 24 hours per day through highly choreographed conversations. Chatbots are a two-way street, as any dialogue, and both advertisers and using advantage.
Why Do You Need a Chatbot for E-commerce?
People can easily access information without waiting for a person. And, even with direct interaction with them, you can attract clients through the sales funnel.
Chatbot and AI systems exploit more than any technology for artificial intelligence and can assist you with:
Identification and maintenance of qualified pathways.
Resources and support for consumers.
Come into contact with previous customers and provide information about delivery and return.
Gather user experience reports.
Suggest products regarding sales rise.
You must also have a chatbot, chatbot for e-commerce should be on top of your priority list if you are searching for ways to create real relationships with the public, improve customer experience, and even boost sales. You can also create a WhatsApp bot to increase sales. Here are the details of How to Create Your First WhatsApp Bot without Code?
Here, I'll tell you how exactly to create and establish a chatbot from beginning to end for your e-commerce business. The best part is that it is actually much easier than it sounds!
What's the Objective of Your Chatbot for E-commerce?
Making your objectives clear can prevent you from being distracted and remaining motivated. Chatbot for e-commerce is a useful tool to sell and market. So, get a grip on what and how you want to use a chatbot for e-commerce before you get started.
Before you start thinking about building your chatbot for e-commerce, here are several more aspects to take into account:
Where would you like to locate the chatbot?
Which other sites do you want to communicate with, such as social media?
How do you want your clients to be informed?
When your chatbot interacts, what do your clients look for?
Would you like users to ask and communicate with a live person?
How does your chatbot incorporate into your business plan as a whole?
Getting a grip of what you have will help you to make your chatbot effective at least in the beginning without distracting yourself from the countless chatbots you can do. We strongly recommend taking into consideration the authority in chatbots of Facebook Messenger. More than a billion people use Facebook Messenger each month so that they can communicate seamlessly with your business.
Messenger will help you find what the users want – including username, and location – and eventually take them via your sales funnel.
How to Build a Chatbot for Ecommerce:
Login into Xenioo (Or create an account)
Login with your Facebook password from your site.
Allow your Facebook page the chatbot program access.
Give your business and your objectives some general details.
Now that it is time to start developing chat content like e-mail and chat-based broadcasts—difficult, it's but just set it up once. It's time to begin developing a chatbot.
Creating an e-commerce chatbot means writing your customer's scripts, educating them, and serving them. These default messages, including a welcome message, can be edited to also include information about the brand and a warm reception.
Chat Flow Editor:
Now that is done, it is time to create flows that simulate genuine customer chat and enable you to interact with the brand. Xenioo has an advanced chatbot editor without a single coding line. The flow editor is the best choice for building flows. You can do this when you open and name a flow.
This gives you an image of the flow, which is very useful to make sure you don't miss anything. Continue to add interactive steps to represent your clients' conversations.
Here's How to Create Ecommerce Chatbot Flows:
Adding Trigger:
How is this conversation going to start? If you click on "Add Trigger," dozens of options will be offered, from subscribers to keyboard triggers to on-screen pop-ups. Pick the one for this flow that makes sense for your business.
Adding Text:
When the other step is done, it's time to start the chat. It is nice to have a warm "Hi, how can we help you?" An intro to how your chatbot is and your business is also a great starting point.
The conversation just started when you were done with that! Add pictures or choices galleries. In Xenioo, you can also select User Input to allow consumers to react with you by selecting different options. Here is a quick look at the number of choices for each message that you will have on the button. Consider reviewing customer support logs and planning discussions centered on the most frequently asked questions or expectations of customers.
Multi-Channel Publishing:
Xenioo has this feature where you can publish your bots on all platforms, at once! This feature comes in pretty handy when you are done creating your chatbot for e-commerce.
Five of the Best Chatbot for Ecommerce Examples:
Marvel:
Chatbot type – Fixed response
Chatbot goal –Make direct ticket sales commitments
Marvel decided to start something different and take out the box office where fans hung out, to increase sales of a ticket for both Avengers: Infinity War and Ant-Men.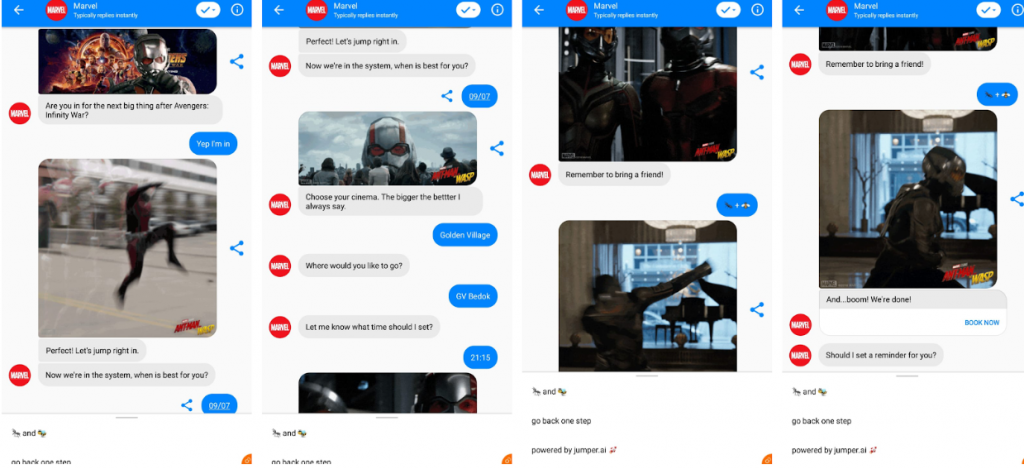 Key Takeaways:
The brand's personality shone out with committed imagery and gifs.
With a DM chatbot check-out, the instant buying of tickets was remarkably simple for supporters.
Intelligent targeting and retarding were used to include users who did not convert originally.
Patrón Tequila:
Chatbot type – Fixed Response
Chatbot goal –Provide customized drink proposals with the core brand
Patron launched the Bot-tender to encourage followers to be creative with Patron during the summer, which is the expansion of the cocktail lab experience on their site.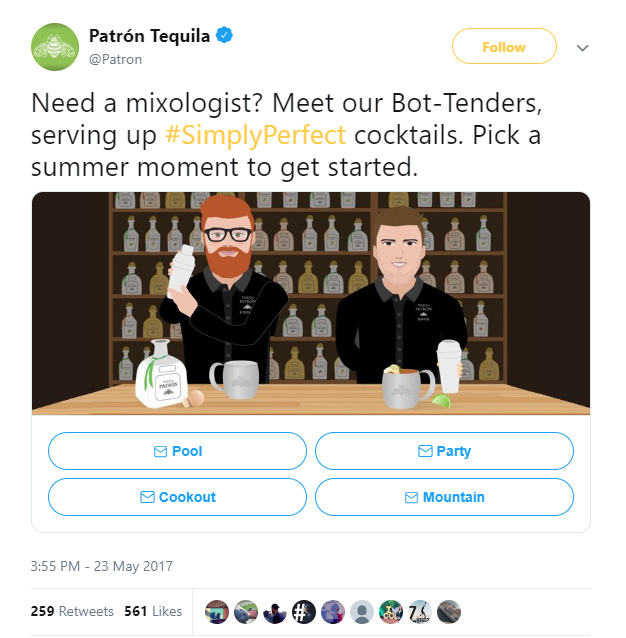 Key Takeaways:
The company was the key part of each drink proposed.
The campaign took advantage of the popularity of mixed drinks during summer events.
In designing future publicity campaigns, the data gathered by the fans are immensely beneficial.
Spring:
Chatbot type – Shopping bot. Fixed response
Chatbot goal – Assist users to find the best clothes
The user interface is the defining feature in 2020 and beyond of successful brands. The key is speed. And individual experiences must be the top priority. And Spring has a wonderful example of how they both established themselves with their automation chatbot.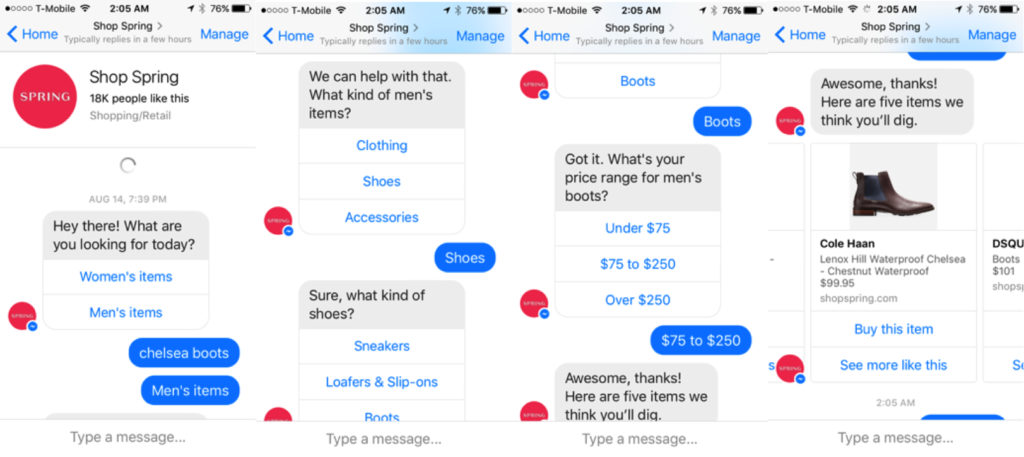 Key Takeaways:
The main purpose of the bot is to produce value and not to sell.
The fast answer button enables the user to react fast with responses that guide your shopping experience.
The dialogue it produces is a very diverse marketing process.
Etsy:
Chatbot type – Fixed Response
Chatbot goal – Offering customized replies anytime the customer wants it
Although most of the previous chatbots were fun and fun, this immediately told more about the software's functional side. The key to success here is Quality Customer Service, and Etsy's offered Twitter DM to it has clapped. Users may solve problems or obtain more information in minutes using clear buttons.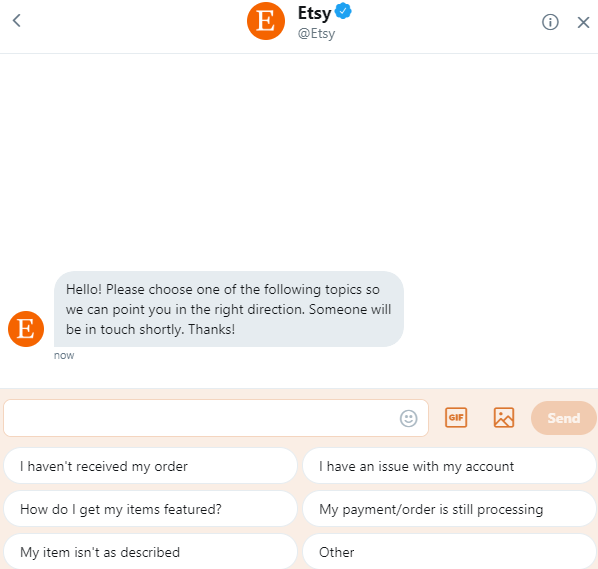 Key Takeaways:
The brand has made it incredibly easy to find immediate solutions for customers by placing the most common questions at the forefront of the chatbot.
It did develop consumer trust and spurred repeat sales by providing quick assistance.
The brand saved vast sums of money and time on customer support manpower as the chatbot can handle thousands of inquiries simultaneously.
Hipmunk:
Chatbot type – Fixed response
Chatbot goal –Help users find their perfect holiday plan and book them
An excellent indicator of how you can involve and help your clients is Hipmunk's Bot. It raises issues like others on this list to find out what you are searching for. But they have also included some more attractive elements, such as using the location of your phone as your starting point.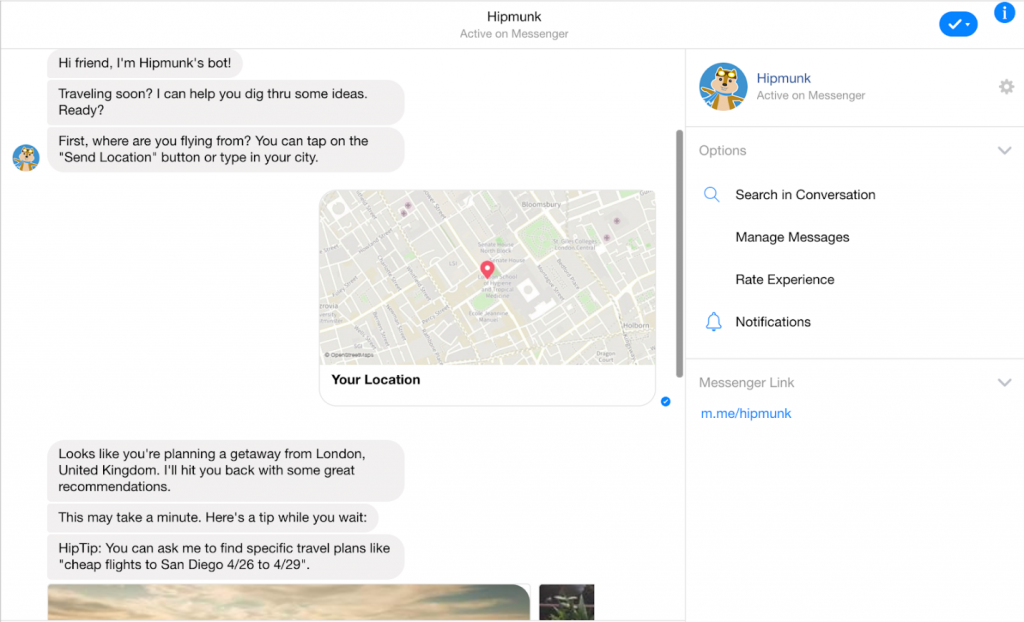 Key Takeaways:
Hipmunk has a hybrid model integrated. Suggestions on equal portions and requesting feedback. This is a new approach that helps the user to get the result much quicker.
They use a very pleasant tone of voice, making it perfect for chatting.
Conclusion
You can take your business to the next level of your sales by building a chatbot for e-commerce. This not only provides you access; it also makes it possible to position yourself as a provider and knowledge base. You can establish relationships with customers through an e-commerce chatbot that eventually fosters loyalty.