For corporate and team communication, the virtual chat network Slack was developed expressly with these goals in mind. It enables you to digitally communicate with your on-site and remote team members — regardless of where they are physically located. Below we discuss the best Slack bots ideas we found over the internet being used for multiple beneficial purposes.
A Slack account, however, can be used for a variety of tasks other than just instant chat. Moreover, it allows you to upload and exchange files with any of your employees; Notes and memos should be written down. Make audio and video calls as rapidly as possible. Set reminders with the help of the Slack bot. Integrate with a plethora of office applications to improve its functionality. But that's not all there is to it.
Slack is available on a variety of platforms and devices, allowing for the greatest possible ease of usage. A web application for browsers, a mobile application, and a desktop application for Mac, Windows, and Linux are all available.
What Is A Slack Bot?
When the Xenioo team began to develop several years ago, two tools emerged as essential components of our communication and operations: Slack and timesheet. Using a bot, you may automate messages and tasks, as well as run code in the background.
The best chatbots for Slack are controlled through the use of tokens, which allow them to access Slack's APIs.
Our List Of The Best Slack Bots Ideas
Google Calendar for Team Events
To keep your events and duties organized, you may use this Slack app to create a shared calendar with your team. As a result of the rules you've established, you'll receive reminders prior to an event, as well as daily or weekly summaries of all your calendar entries, delivered to a channel of your choosing.
You will also be notified if an event is completely canceled or if a change is made to an event, ensuring that you do not miss the event's specific start date or location.
The Paymo task management
The Paymo task management and time tracking application may be accessed directly from Slack, the best use of the slack bot. A work and project management tool, Paymo, ensures that everyone on your team is working together on the same page. Additionally, in addition to providing a clean and modern appearance, the app also provides a robust collection of functions for organizing, scheduling, and invoicing your work.
Using the Paymo for Slack app is extremely convenient when you need to track work time, create tasks, upload files to your projects, or receive notifications about your Paymo tasks. All of this translates into less manual labor and more time for you to devote to your profession.
To take advantage of this integration, you'll need a Paymo account, either a free trial or a premium account.
Slack Scheduler – schedule your Slack messages in a matter of seconds
Using the Slack Scheduler, you may plan any message in Slack to be sent at a future date and time. The timing of messages allows teams operating in various time zones to interact more efficiently by avoiding late-night pings and ensuring that critical messages are received. You can also batch your Slack time by scheduling messages, which is particularly useful for founders who may schedule critical announcements to be sent out at specified times of the day.
Harvesting – keeping track of time and budgets
Harvest is an employee time monitoring program that allows numerous employees to clock in at the same time and improve their time management skills. They have developed the Slack app to help you better manage your logged hours. It allows you to set and stop timers, views what other team members are working on, and check statistics on your time budget without having to reload the app. All of this may be accomplished with a few simple slash commands, such as /harvest start or /harvest budget, that are easy to remember.
To use this Slack app, you'll need to sign up for a free trial or purchase a premium subscription.
Xenioo can easily integrate with Harvest and they wrote a detailed guide on how to use a chatbot and a conversational flow to efficiently and frictionlessly record, the time spent by each person on your team read from the following link, https://www.xenioo.com/build-slack-bot-automated-messages/.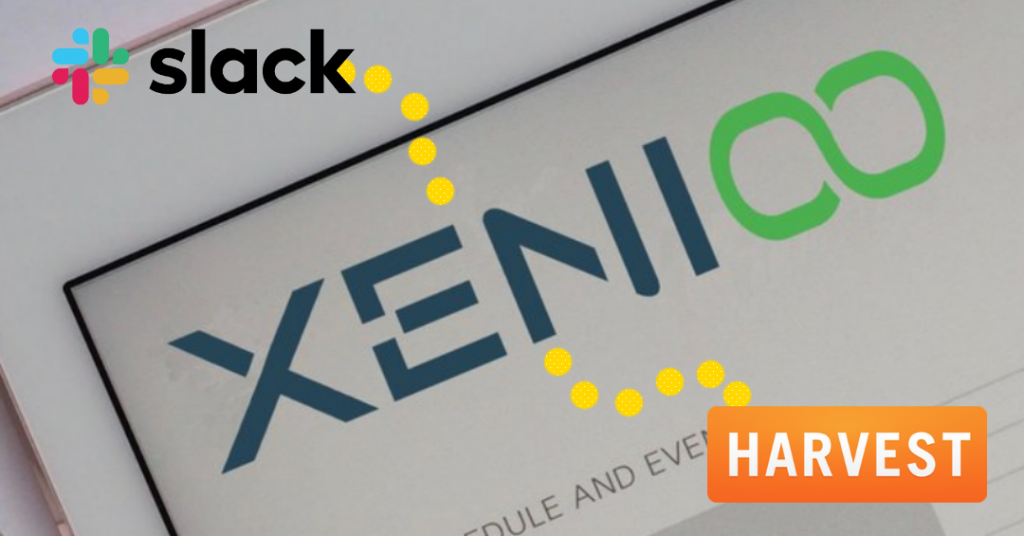 Any.do – personal assistant that informs you of the things that need to be completed in your absence
Any.do's Slack bot assists you in managing your everyday tasks in a conversational manner, using natural language. There is no need for orders in this situation. Enter a query such as "What are my tasks?" and the bot will lead you through your workday to ensure that you stay on track with your responsibilities.
Also available on Slack bot is the ability to create new tasks, delegate old tasks, and send reminders. All of the entries will then be presented in the desktop version of Any.do, but it's much more entertaining to have the best slack standup bot free to inform you of everything that has been entered.  
Conclusion
We can all benefit from the use of the best free Slack bots, which is a one-of-a-kind and incredibly powerful digital marketing approach that is worth exploring. If you need a Slack chatbot tutorial, Xenioo has a ready-to-use solution for you!
With Xenioo, businesses get a ready-to-use tech solution for consumer engagement, complete with an intuitive UI.
Join the best Slack Bots experience under your organization with Xenioo. Allow us to guide you through and give your organization the best customer service it can provide.
Connect with us at Xenioo.com.