Chatbots are software applications that simulate a conversation with a real person by mimicking written or spoken human speech. Chatbots are becoming more common because creating chatbots (programming knowledge and other skills) is becoming obsolete.
Let's look at a few of the best chatbots for websites.
The Advantages of Using Chatbots for Website
With a chatbot on your website, you can save a lot of time for both your customers and your employees. At the same time, increase revenue at a low additional cost.
An interactive chatbot for a website can have a positive impact on the customer experience. The platforms on which they are most popular are frequently those with the best user experience and ease of interaction. What role do chatbots play in the world of big brands? Let's take a closer look at our best chatbots for the website list.
5 Best Chatbots For Website List:
1. Sephora – Advisory Chatbot Appealing To Generation Z
Have you ever considered how to effectively reach out to the Millennials? Sephora was thinking the same thing and for this reason, is the first example of our best chatbots for the website list. Generation Z considers email to be an outdated model of communication – Gen Z members are three times more likely to open chat messages sent via notification.
If you've ever been to a Sephora store (online or in-person), you've probably been overwhelmed by the vast array of products. This is where their Sephora chatbot, which the brand is very proud of, comes in. It runs on Kik (one of the most popular messaging apps among young customers).
You will be able to find yourself in a wide range of assortments with its assistance. It will offer you advice, a photo, or a tutorial. One of the Sephora chatbot's main business achievements is a significant increase in teen engagement, which was made possible by creating a truly unique experience.
2. Snaptravel– A Chatbot For Quick And Easy Trip Planning
I think we can all agree that planning a trip takes a lot of time. There are hundreds of hotel and flight offers to compare on various websites. Snaptravel, on the other hand, has devised a solution that makes the entire process much easier and more convenient. They developed a consulting chatbot (available on Messenger and WhatsApp) that can find the best vacation deal for you based on your preferences.
The Snaptravel chatbot will search for hundreds of offers based on the information provided, such as budget, city, or personal preferences, and will return the best options. The entire procedure is brief, straightforward, and precise.
Nowadays, users are looking for ways to simplify their lives and save time at every turn. These optimizations are frequently made at the expense of abandoning more time-consuming activities. This chatbot appears to be an example of an ideal solution for them – all users need to do is type a few phrases to find a perfect match.
3. Toyota – Chatbot For Lead Generation
In the automotive industry, Toyota's Hong Kong branch has done something unusual. They collaborated with Sanuker to develop the best chatbot software that aided in the marketing success of the then-new Toyota Sienta.
Stella, Toyota's Sanuk Chatbot solution, gathered her interlocutor's preferences over a pleasant chat conversation. Following that, users were assigned to appropriate sales team members on the live chat based on the information gathered by the bot. Finally, those conversations resulted in actions such as brochure inquiries or test-drive scheduling.
This action has yielded impressive results. The Toyota Sienta campaign chatbot achieved a CTR of 10%, while the Hong Kong average is only 0.6 percent. Surprisingly, up to 50% of users who completed the "quiz" with the bot were interested in scheduling an offline test drive.
Example 3: Example of Toyota Facebook Messenger bot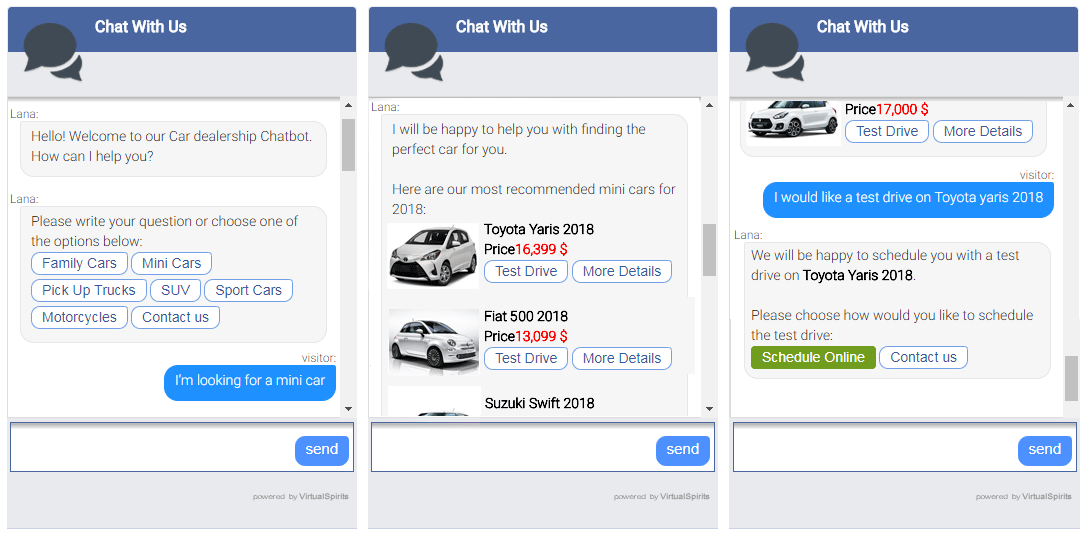 The hybrid combination of chatbot and sales team live chat was a huge success, so Toyota Hong Kong is continuing its collaboration with Sanuker and developing a strategy to improve user conversion with the help of a chatbot.
4. Masha.Ai – An All-In-One Shopping Assistant Chatbot
Masha.ai is one of the best AI chatbots for websites, I've recently discovered. The project is still in its early stages. But it gives us an idea of what bots might look like shortly. The platform collaborates with 600 international brands (including Nike, Swarovski, UnderArmour, ASOS) and provides consulting in over 50 product categories. 
According to Frederik Van Lierde, CEO and founder of Masha.ai, their goal is to reduce the amount of time consumers spend shopping, which is, after all, an essential part of our lives and the world we live in. The uniqueness of this solution lies in the fact that it is motivated by customer needs rather than potential profits from brand positioning manipulation.
They created this chatbot to help users make shopping decisions and even place orders. Masha.ai provides notifications about new products from the brands one is following and some shopping inspirations. All of this can happen without you having to leave the chatbot window on your phone. Masha.ai is available in a variety of popular communication apps in addition to Facebook Messenger.
5. UNICEF: Assisting Marginalized Communities in Making Their Voices Heard
Except for Endurance's dementia companion bot, the chatbots we've looked at thus far have primarily been great novelty items. The international child advocacy group UNICEF is utilizing chatbots to enable individuals in impoverished countries to speak up about the most pressing needs in their communities.
The bot, called U-Report, concentrates on large-scale data collection via polls — this isn't a chatty bot. U-Report sends out prepared surveys on a variety of pressing social issues and users ("U-Reporters") can answer with their thoughts. UNICEF uses this feedback to develop potential policy recommendations.
U-Report sent a poll to users in Liberia about whether professors were coercing children into sex in exchange for better grades, which was a particularly striking illustration of how this relatively restricted bot had made a significant impact. Approximately 86 percent of the 13,000 Liberian children polled by U-Report said their instructors engaged in this heinous behavior, prompting a collaborative endeavor between UNICEF and Liberia's Minister of Education to put an end to it.
Best Chatbots for Website: Final Words
Such chatbots being used by these websites are all implementations of the emerging Artificial Intelligence and offer a wide array of benefits for companies eager for technological advancements in customer service, marketing, and lead generation. Xenioo is a no-code chatbot-building platform that offers free chatbots for websites with varying degrees of usability. For more information, you can see and use our pre-built examples.