The Best Omnichannelchatbot platform
Automates conversations between companies and people across a wide range of different text and voice channels.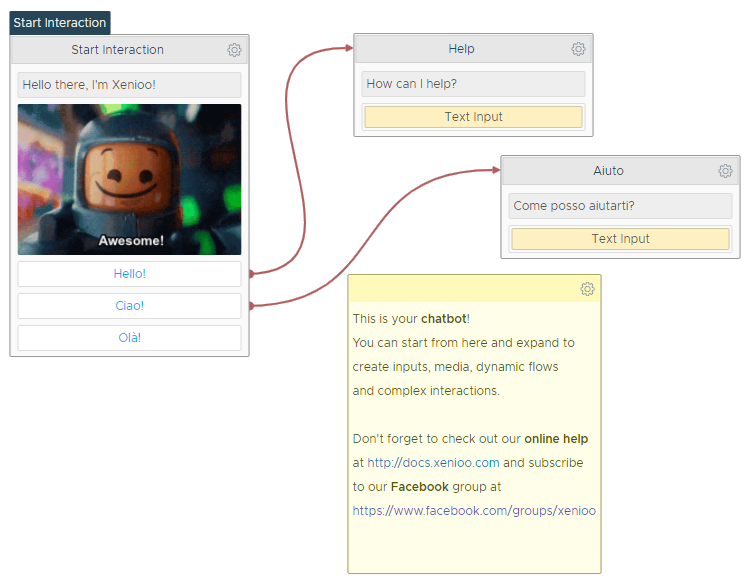 Deploying your bot on multiple chat channels has never been so easy
Facebook Messenger
Connect your Facebook pages to a Xenioo chatbot. Collecting leads and profiling users has never been easier.

WhatsApp
The most popular messaging platform in the world, in every customer's pocket. Get closer to your customers with a smart, AI-powered Xenioo chatbot.
Telegram
Want to manage and automate telegram chats and groups? It's a breeze thanks to the conversational skills of a Xenioo chatbot.
Websites
Customer support, sales assistance and lead acquisition. With a Xenioo chatbot you can talk to your users 24/7.
Microsoft Teams
Automate your team communication with the perfect virtual assistant that you can build with Xenioo.
Slack
Simplify team life in Slack channels. Thanks to Xenioo's chatbot tech there is no limit to the actions you can automate.
Google Assistant
Create a voice chat Action for Google Assistant devices, automating Google devices in minutes thanks to a Xenioo chatbot.
Amazon Alexa
Talk and interact with any of the Alexa home devices. Create and transform a Xenioo chatbot into an Alexa Skill.
Phone and Voice
Create your first real-time voice virtual assistant using Xenioo's voice-capable platform.
Custom Channel
Have a unique chatbot requirement? Leverage the power of the Xenioo chatbot engine to create a custom chatbot interface.
An advanced editor for building chatbots without writing a single line of code
Build your chatbot once, publish it everywhere
Why starting with Xenioo ?
Registration is FREE and you can instantly publish your chatbots on
Facebook Messenger, WhatsApp, Telegram, Websites, Slack, Phone and Voice, Amazon Alexa, and Google Assistant
Leverage the power of Xenioo's AI engine to engage your users using meaningful chatbot exchanges
Collaborating across multiple chatbots has never been easier!
Have you already created chatbots with other platforms?
Our team of specialists can help you swiftly migrate your existing chatbots to Xenioo.
Create your free account today and get in touch, we'll show you how!
Extend your chatbot functionality to create a truly personalized experience
Integrated Customer Support
The ideal tool for managing chatbot conversations that provide full support to your users
Xenioo offers competitive solutions for agencies and resellers who wish to become official partners, benefitting from our innovative chatbots platform 
and our attractive revenue system.
Contact us right now and help us to grow our platform and celebrate success together.